Wiki Targeted (Entertainment)
Play Sound
"YAAAAAY!!!!"
This is a Featured Article. This page was selected as Featured Article on the main page. A new article will be elected soon.
Thank you for supporting the Gumball Wiki.
"Well, you know I could help you with that."

This article is about the character. You may be looking for the Darwin's Yearbook episode.
Clayton
Character Information
Color Scheme
Clay
Mouth
eye
other

none

none
Clayton is a recurring character in The Amazing World of Gumball. He is one of the various students in Miss Simian's class at Elmore Junior High.
Appearance
Clayton is a living ball made of red clay, with big purple clay lips, and eyes made from white and black clay. In season 2, Clayton is given thick eyebrows, his clay is more fixed, and the inside of his mouth is pink.
Personality
Clayton enjoys telling fantastic stories about his life to impress his friends, but most of these stories are either completely false, or grossly exaggerated.
Clayton also seems to be very lonely; it is implied that before the events of "The Skull," Clayton did not have many friends, and that motivates him to befriend Gumball and Darwin despite their hesitance. Clayton befriends them by lying to them (by which the brothers are later upset); he uses this same tactic on Tobias to gain his trust in "The Move."
In "The Move," Clayton reveals that he finds himself boring and socially awkward and that is why he has a tendency to lie often. In order to find someone to call a friend, he finds it necessary to change who he is.
Abilities
Clayton can morph into different shapes and can also disguise himself as any person he wants. He also has the ability to mimic the voice of the person he shapeshifts into.
Episode appearances
Prototype
Season 1
Season 2
Season 3
Season 4
Season 5
Season 6
Scrapped appearance
Voice actors
Rupert Degas (US/UK, season 1)
Max Cazier (US/UK, season 2 onwards)
Wirley Contaifer (Brazil, seasons 1–3)
Maxime Donnay (France)
Takuya Sato (Japan)
Gallery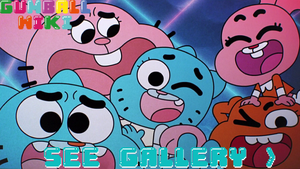 Click here to view the gallery.
Quotes
"

Clayton: I could build you a bridge!
Tina: [Steps on Clayton] No!

"
—From "The Dress"
"

I'm having the time of my life!

"
—From "The Party"
"

Clayton: Why don't you just wet your hair, and say you had a shower?
Darwin: Isn't that lying?
Clayton: I prefer to call it creative truth.

"
—From "The Skull"
"

Gumball: What is this "finger-touch heart-disintegrating move" nonsense?
Clayton: What-it's true! I saw it on TV.

"
—From "The Move"
"

Clayton: Well. After school, I'm gonna go pirate hunting with the president of the solar system in an underwater theme park where-
Darwin: Okay! Okay. Let's just try and take out half the things that aren't true.
Clayton: Okay. After school, I'm going hunting in a theme park with the president-
Gumball: Wow. Even your half-truths are full of absolute bunk.

"
—From "The Move"
"

You're right! I guess being someone is good enough. I don't need to lie anymore. [Hugs Gumball] Thanks dudes!

"
—From "The Move"
"

Clayton: I've got a contagious rash on me-
Gumball: WHOA whoa whoa-alright! I'd like to skip this one, thank you very much.

"
—From "The Move"
"

Clayton: You can't just frame Jamie for knocking out Tobias."
Jamie: WHAT!? You were gonna frame me for knocking out Tobias?

"
—From "The Move"
"

Alan: [Talks back to fourth wall] You see, people are a lot like pawns in a chess game, and you need to know how to influence them.
[Scene cuts to Alan, outside with Clayton]
Clayton: Hey, you're right! It's a great idea! You should apply!
Alan: What? Little ol' me? But, I'm just a simple country boy from the sticks. Now, what would I know about them there politics?
Clayton: Nah, you'd make a great school president.
Alan: [Talking back to fourth wall] The best way to achieve your goal is to make people think it was their idea.
Clayton: Uh, who are you talking to?
Alan: [Back to Clayton] That is not something you need to worry about.
Clayton: Okay!
[Alan picks up Clayton]
Clayton: Well, all I was saying is that you would make a great school president, Alan!

"
—From "The Vision"
Trivia
Clayton's animation resembles Claymation, a reference to the fact that he is clay.
Clayton's voice changed frequently in season 1. In "The Party," he has a more feminine voice, and more of an accent in "The Dress." In season 2, he has a different voice altogether.
He seems to suffer from mythomania, a behavior in which the victim has the incapacity to talk about past events without nonsensical lies (not be confused with the incapacity to remember past events).
He has a glandular problem which makes his liver, and consequently his mouth, smell of burnt tires and hummus. This occurs when he is near a girl.
Clayton knows a karate move that targets the opponent's pressure points, knocking them out for a short while. This was first used on Tobias.
He had no individual speaking roles in season 4.