Chicken Bucket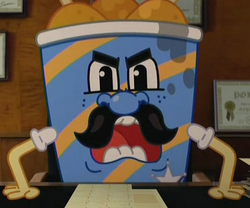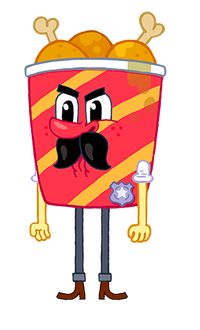 Character Information
Chicken Bucket is a single-appearance character in The Amazing World of Gumball. He made his first and only appearance in "The Law." Chicken Bucket works as the chief of police of the Elmore Police Department. He is also known as the commissioner.
Appearance
Chicken Bucket is a blue-and-yellow striped bucket, with three large pieces of fried chicken sticking out of his head and a mustache. He also has some freckles and grease dripping from the rim of his head. He wears a badge similar to that of the Donut Cop's. He has cream-colored arms extending from white sleeves, and wears blue trousers with brown boots.
Episode appearances
Season 3
Gallery
Trivia
His name is revealed to be "Chicken Bucket" on the name tag on his desk.
Community content is available under
CC-BY-SA
unless otherwise noted.