Wiki Targeted (Entertainment)
Play Sound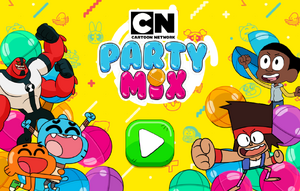 Cartoon Network Party Mix is an online crossover game on the Cartoon Network website.
Summary
Collect the greatest Cartoon Network digital album on the web whilst playing games from all your favourite shows. In Cartoon Network Party Mix you need play all the great games to earn stars which can be used to get stickers to complete the sticker album. There are stickers to collect from Ben 10, The Powerpuff Girls, Adventure Time, We Bare Bears, Gumball, plus more of your favourite shows! How many can you collect?
Gameplay
The player gets three balls out of a ball machine by spinning its handle. Each of the balls contains either a character figure or stars. The player has to collect enough stars to obtain a sticker pack that contains five stickers. Stars can be collected either from balls or by playing minigames with different character figures. Each figure has a unique minigame that has to be completed before the time runs out. Once the minigame is over, the player is shown their score and awarded one to three stars, depending on the score. The goal of the game is to collect all the stickers.
Figures
All the figures that the player collects are stored in the Game Collection. There are fifty figures in total, six of which are based on The Amazing World of Gumball characters. They are:
Gumball - minigame: shooting paper balls at Darwin
Darwin - minigame: avoiding falling objects
Nicole - minigame: avoiding falling objects
Football Gumball - minigame: dribbling the football
Football Darwin - minigame: scoring goals
Stickers
Stickers are obtained from sticker packs and placed in sticker albums. There are ten different albums for ten different Cartoon Network shows. Each album contains fifteen different stickers, four of which make up a big sticker. Stickers 10 to 13 are special, and stickers 14 and 15 are golden. In case the player gets stickers they already own from the sticker pack, they are awarded stars.
Characters
Playable
Gumball
Darwin
Anais
Nicole
Non-playable
Cartoon Network characters
Gallery
Trivia
External links