"They were clearly missing something." "You notice it too?"
This article is a stub. Please help the Gumball Wiki by expanding it.
Thank you!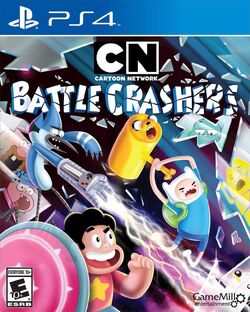 Cartoon Network: Battle Crashers is a console and handheld video game exclusive for the Playstation 4, Xbox One, Nintendo 3DS, and the Nintendo Switch. It is developed by Cartoon Network Games, GameMill Entertainment, and Magic Pockets. It was released on November 8th, 2016.
Synopsis
When Uncle Grandpa accidentally drives the UG-RV through multiple dimensions, he picks up some surprise passengers in the form of Gumball, Steven Universe, Finn, Mordecai and Clarence! Now they'll have to band together to defeat the evil shard creatures and set things right.
Gameplay
TBA
Levels
Aberdale Neighborhood
Aberdale Junkyard
Beach City
Crystal Caves
UG-RV
Outer Space
Grasslands
Ice Kingdom
The Park
Virtual Reality
Characters
Gumball Characters
Playable
Non-Playable
Enemies
Cartoon Network Characters
Gallery
Reception
Cartoon Network: Battle Crashers has received overall abysmal reviews, getting only a score of 21/100 on its Metacritic page.
Trivia
This is the first console game to feature characters from The Amazing World of Gumball.
One of the nicknames Gumball gains upon leveling up is "LaserHeart," a callback to "The Comic."
Gumball's super power uses footage from the insult battle in "The Words."
At the end of the Beach City level, Richard says "You shall not pass!" This is a famous line said by Gandalf in the first The Lord of the Rings movie.
In the ending sequence, the villain is captured by the gang and unmasked much like in the 1969 Scooby-Doo series villain reveals. Additionally, his final words are an almost verbatim quote from Scooby-Doo: "And I would have gotten away with it, too, if it had not been for you meddling heroes!"
Community content is available under
CC-BY-SA
unless otherwise noted.