Wiki Targeted (Entertainment)
Play Sound
Carmen Verde
Character Information
Color Scheme
coat
cloth
eye
other

none

none

none
Carmen Verde is a supporting character in The Amazing World of Gumball. She is a student at Elmore Junior High and the girlfriend of Alan. She is also a member of the cheerleading squad.
Appearance
Carmen is an anthropomorphic green cactus, with thin black lines for arms and legs. Her eyes and mouth are both black. In season 2, her design barely changed at all. However, her cactus arms seem to have become slightly closer to the edge of her head, as well as the outline of every part of her body (including her prickles) getting thicker. Her face has also moved further up her body to sit in the middle. She also now has round eyes instead of ovular. In her early concept, she had one eye and more spikes.
Personality
Carmen is said to be a leader among the girls, meaning that she is one of the smartest and most capable people in the school. She also puts a lot of pressure on herself, and she gets extremely upset when she fails at something. Out of all the girls, Carmen is the most serious and focused, dedicating nearly all her time to her studies. She is often seen reading books. She can also be criticizing, which annoys Gumball a lot.
Carmen is also madly in love with Alan the balloon, although this love obviously suffers many issues, because of how readily cactus spines pop balloons.
In "The Best," it is revealed that she used to be a troublemaker at Franklin Junior High for bad grades, vandalism, and disrespecting the principal, which resulted in her being expelled. Since arriving at Elmore Junior High, she became a better person.
Episode appearances
Prototype
Early reel: Her debut. She accidentally pops Alan.
Season 1
Season 2
Season 3
Season 4
Season 5
Season 6
Voice actors
Gallery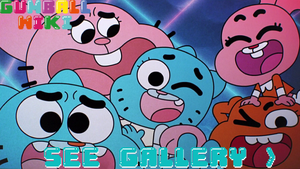 Click here to view the gallery.
Trivia
In the original promos for the show, Carmen is already dating Alan, but in "The Party," she is dating Banana Joe.
It is revealed in "The Best" that Carmen was originally a Franklin Junior High student. She was expelled from this school due to her aggressive and violent behavior before changing her ways at Elmore Junior High.

It is revealed in the same episode that she is approximately 3'3" tall.

In season 2 onwards, Carmen can often be seen having a background conversation with Alan, often in the hallways.
Carmen's surname was revealed in "Vote Gumball…and Anyone?"

Her surname, "Verde," is Spanish, Portuguese, Romanian and Italian for green.