Blue Elephant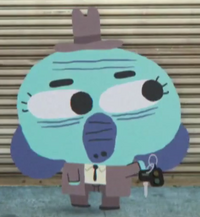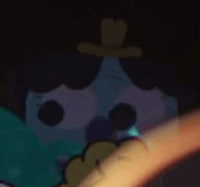 Character Information
| | |
| --- | --- |
| Gender: | Male ♂ |
| Species: | Elephant |
| Friends: | Gary, Mr. Robinson |
| Occupation: | Car dealer, hair stylist, factory worker |
| First Appearance: | "The Debt" |
| Voice: | Unknown |
The Blue Elephant is a minor character in The Amazing World of Gumball. 
Appearance
The Blue Elephant is, as his name suggests, a blue elephant. His skin is mostly a light blue color, but his ears and trunk are a darker shade of blue than his skin. In comparison to his head, the Blue Elephant's body is quite small.
He wears a brown business suit with a small black tie. Along with this, he also wears a small brown hat, which just barely covers his enormous head.
It is revealed in "The Factory" that the lack of daylight stunted his growth.
Episode Appearances
Season 1
Season 2
Season 3
Season 4
Season 5
Season 6
Gallery
Season 1
Season 2
Season 3
Season 4
Season 5
Season 6