The Bananas' house is a minor location in The Amazing World of Gumball. It first appeared in "The Colossus." It is the place where Banana Joe, Banana Bob, and Banana Barbara live. It also appeared in "The Shell" where much more of its interior is seen. In "The Lie," part of it appears (mostly the bathroom only). In "The Oracle," the Bananas hold a garage sale at the front yard of the house. Bizarrely, its exterior looks exactly the same as the Fitzgeralds' house.
Banana Joe's room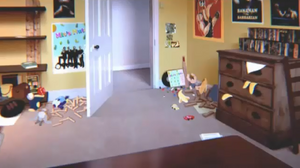 His room first appeared in Elmore Stream-It. Like his school locker, Banana Joe keeps his room messy and unorganized. It seems to be small with many posters and banana peels lying around his drawers. Plus, there are various items scattered all over the floor.
Episode appearances
Season 2
Season 3
Season 4
Season 5
Season 6
Trivia
Community content is available under
CC-BY-SA
unless otherwise noted.