Wiki Targeted (Entertainment)
Play Sound
Barbara Banana
Character Information
Barbara "Banana Barbara" Banana is a recurring character in The Amazing World of Gumball. She is Banana Joe's mother, and the wife of Banana Bob. She and her husband first appeared in "The Responsible."
Appearance
Banana Barbara is an anthropomorphic banana. She is nearly identical to the rest of her family, with the exception of a blue and white polka-dot bow (which she wears to keep her head from falling apart due to her burnout), lipstick, and eyelashes.
In season 2, she acquires eyebrows and a more lightly-colored peel.
Personality
As shown in "The Mothers," Banana Barbara does not seem to be very bright, and is rather oblivious to her surroundings. She has also been shown to have a very creepy demeanor. It is revealed in "The Future" that she used to be competent and smart, but after an internship at Chanax Inc., she got so stressed that she got a burnout and became the way she is now. At times, she is prone to taking words too literally.
Episode appearances
Season 1
Season 2
Season 3
Season 4
Season 5
Season 6
Abilities
Barbara has the ability to make certain events occur through her painting. While "The Shell" and "The Oracle" suggested she had clairvoyance, "The Future" confirms that she can directly paint future events into occurring.
Gallery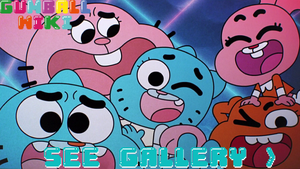 Click here to view the gallery.
Trivia
She and her husband debuted before Banana Joe did (unless one counts the early reel).
Her name was revealed on James Lamont's Formspring.
She has the ability to create the future through painting, as seen in "The Shell," "The Oracle," and "The Future."
She is apparently accident-prone, getting frequently injured.
Her ability to paint the future appears to be a reference to Isaac Mendez from Heroes, who also had the ability to predict the future through visual art.
Her name may be a pun on Hanna-Barbera, an American animation studio that serves as a division of Warner Bros. Animation, though this has not been officially confirmed.
Despite having a burn-out, in multiple episodes, Barbara is seen acting normally.
References