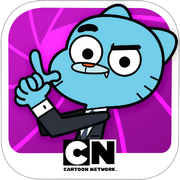 Agent Gumball is a game for iOS and Android devices. The game was first announced on April 19th, 2016, and was released nine days later on April 28th, 2016.[1]
Plot
While getting on the bus for school, Gumball and Darwin notice agents following them everywhere. They see them on the bus, in the cafeteria, and the library. Gumball then decides that "two can play at that game."
He opens up his own agency (a pillow fort in the front yard), and brings Darwin, along with Anais and Penny (not shown in cutscenes) in with him. Gumball decides their first suspect is Principal Brown.
After getting to Principal Brown's office, Gumball accuses him of spying on them, with his evidence being the receipt for Brown's new video player. However, Gumball then suspects someone else of being the culprit: Masami. He and Darwin go after her, with Principal Brown commenting, "See you in detention, Watterson."
After navigating the Rainbow Factory, Gumball finally catches Masami. He takes her phone as evidence, only for it to be full of yearbook photos of herself. Darwin then spots their final target: the goblin.
Once finishing chasing him through Chanax Inc., Gumball finally corners the creature. The evidence Gumball finds is not evidence at all, but is rather stolen corporate documents from the Rainbow Factory. Gumball gives up, and goes home.
At home, the kids notice their TV is still not working. Darwin says it has not been working all day. Richard then explains that after Nicole left the house earlier, he installed a safety lock on the TV. The rest of the family gets upset and starts yelling at Richard. At that moment, two agents run downstairs and out of the house. The Wattersons merely laugh this off, and the story ends.
Gameplay
The player takes control of either Gumball, Darwin, Anais, or Penny in set environments. Wherever the player is standing, there are green spots marked to show which tiles they can move to. Whenever the player's move ends, the enemy agents will then move. If the player is spotted, they can either fight the enemies by tapping them or run away.
Each level chosen has different difficulties, as well as different mission objectives, such as collecting items, rescuing other agents, defeating a set number of enemy agents, and the sort. Depending on the difficulty chosen, the enemy agents will be harder to defeat.
During levels, players can find items spread around such as coins and gems. At the HQ (the game's hub level), these can be used to upgrade stats and pay for better items. Said items are chosen before levels, and can be upgraded or switched out.
Additionally, once the spy computer is unlocked and cards of other agents are found, these agents can then be assigned to other missions while the player continues their game.
Levels
Cast
Playable
Non-playable
Enemies
Other
Gallery
Promotional photos
Reception
Agent Gumball has received above average reviews, getting a score of 3.5/5 stars on its iOS page.
Trivia
References
Community content is available under
CC-BY-SA
unless otherwise noted.